I really didn't want to have to write a post like this, but I feel that I need to share this experience so that none of you guys get caught out like I did. I also hate to do this because I LOVE the polishes that this seller makes... but I feel that I have been treated unfairly so I guess I must share it. (WARNING: This post is very long)
Let's rewind back to before Christmas, I had not long started this blog and I was lusting over all the Indie Polishes imaginable! I decided that for Christmas I would order 6 mini bottles from
GlitzologyBeauty
Polish on Etsy. I would keep 4 for myself and give two to my sister. When they arrived I was seriously happy with them and I still am.
Fast forward to January a few days after my student loan came in, I decided that I wanted to order a few more Glitzology Polishes, this time in the full size. I also asked the seller if she could make me a custom polish for my 21st Birthday. We agreed on a package and got the ball rolling, at this time I also placed this order:
This is where the problems started... Firsty with my custom polish. I didn't hear from her for a few weeks so I messaged her asking what was going on, and I got this response:
'

Hi Alyssia! I am SO sorry because it seems that you haven't been getting my responses. I have been having problems with my Internet connection lately. Some people are telling me that they are getting multiple copies of my messages and some aren't getting them at all! They are doing new construction across the street from my house and one of my neighbors told me she was having similar problems with her Internet and cable. I have spoken to the cable company repeatedly and they basically told me nothing is wrong. After a week of calling them over and over and even showing them copies of multiple people saying they aren't getting my messages, they still refused to do anything! I was so frustrated, I just cancelled my service and went to a new company. So things should be ok now, but I will send so message a couple times just to be sure you get it. I will also send your polish Priority mail (at no extra charge) which arrives much faster than regular First Class mail.
(Details about the polish I wanted)
Again, I apologize for yet delay and I will do my best to get this in the mail ASAP!
Thanks!'
Obviously I was fairly happy with this response and had definite sympathy for her internet issues so I simply responded with specifications for my custom polish and thanked her for her reply. The same day I was sent these pictures of the preliminary mix for my custom: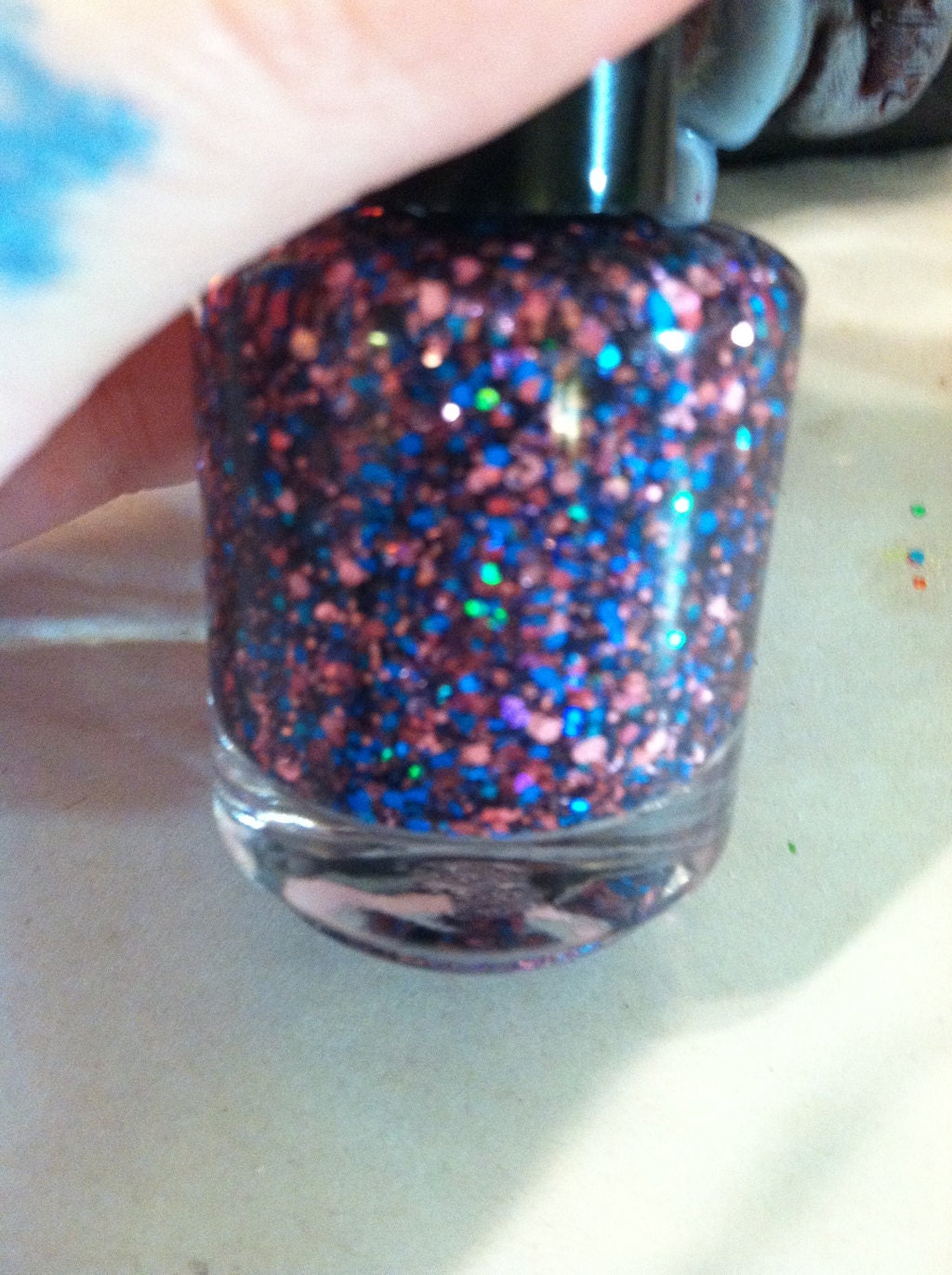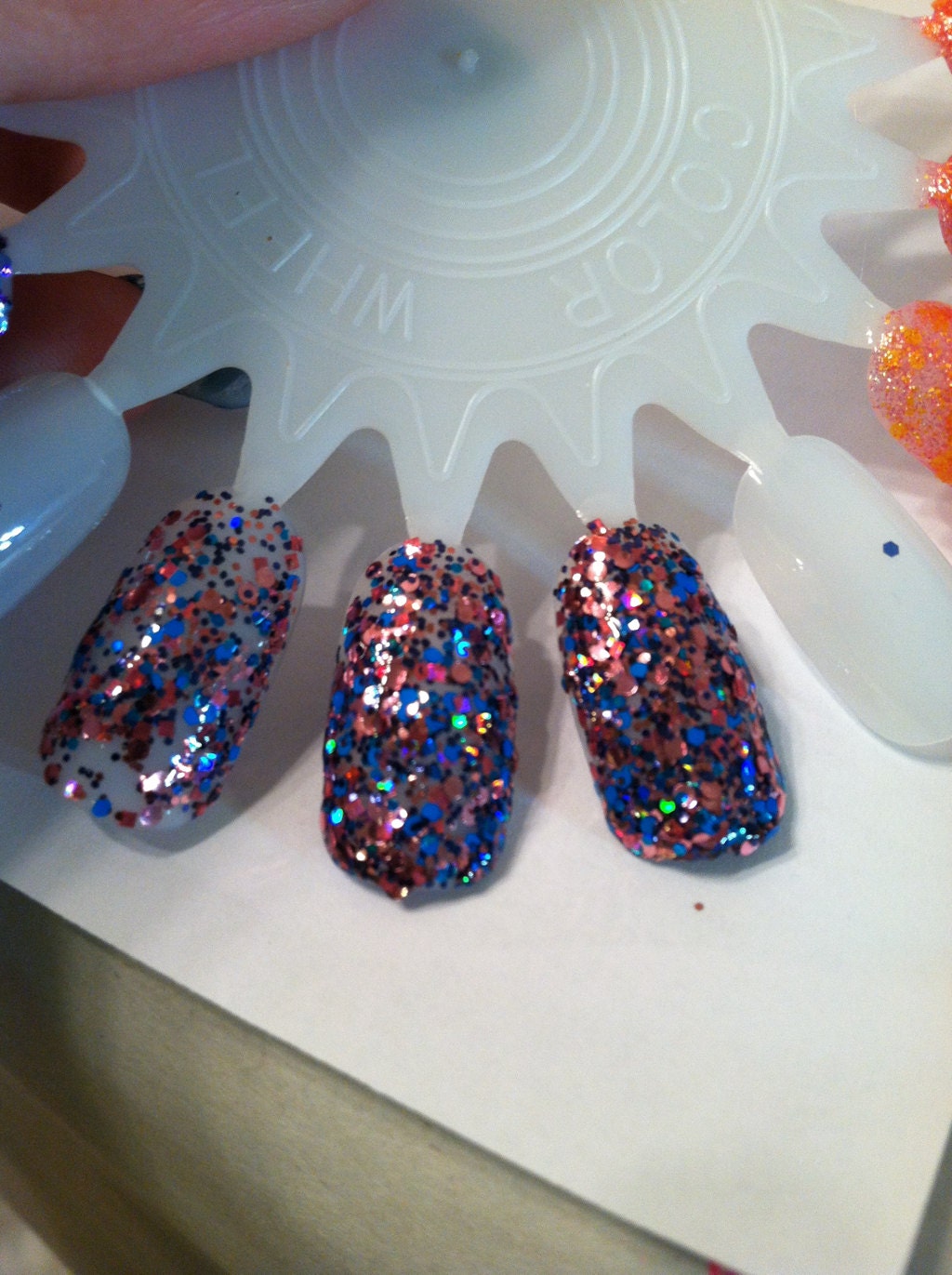 I was fairly happy that my polish was coming along, and simply responded with the changes that I would like made to the original mix (Basically I wanted more pink than blue). Then I got this message:
'

Sure that's no problem at all! I will work on it a bit more after work and send more pics this evening. So just more rose less blue? Is there any other aspect you would like me to change, add, take away? It's no trouble, I do this when I'm making a new color all the time.'
That was the last message I received about my Custom polish... Fast forward to February 9th (So she'd already missed getting my custom to me for my birthday). I contacted her saying I hadn't had my package yet (It had been almost a month since the original order date) she responded with this:
'
Hi Alyssia! I took a look at your tracking info (which tracks the package through the US) and honestly I wouldn't expect it to have arrived yet. UK customs can take 2-4 weeks, depending on the customs office your package is processed through. Some seem to process items faster than others. I've actually heard rumors that some countries are becoming stricter with customs, but I don't know if that's true or not.
Also, I wanted you to know that I ordered those glitters your described (the rose shreds) and I should get them in the next week. I planned to surprise you and just send you the custom polish (no charge of course), but then I realized I didn't know what name you wanted on it! So let me know what you'd like to call it and, when the glitter order arrives, I will finish your polish and you'll get a late birthday gift in the mail! Please let me know if there is anything else I can do for you. :)
Thanks!'
So I was pretty pleased to see that she hadn't actually forgotten about my custom and just thanked her for her response.
Fast forward AGAIN to the 21st of February. Over a month since my order for 3 full bottles was shipped. I message her AGAIN, just letting her know I still haven't received my polishes, that I was worried about it, and could she let me know if she's heard anything. To which I received this response:
'
Hi Alyssia! Yeah that worries me too. I have not received the package returned back to me which is normally what happens when items don't clear customs. I have heard a rumor that some countries are getting stricter with their customs regulations, but I have other customers in the UK who are getting their orders without any problem. I'm on my way to my regular job right now, but when I get home this evening, I will call the postal service customer support number and see if they have any information about your items. I'm very sorry for this delay. I know how much it sucks to be excited to get a package and all you see is an empty mailbox :( If worse comes to worse and they give me no info and the package still hasn't come when I have your new polish ready in a couple days, I will just resend the other items too. I will ship Priority so it gets there faster. But let's hope the postal service can give me more information. I will message you back this evening with what I've heard from them.
Thanks!'
Shortly followed by this response:
'
Hi! I spoke with a woman from the postal service customer support line. She said they would open a case to see if the package has been flagged for return to the US for any reason (I of course didn't tell her there was nail polish in the package). She said it normally takes about 2 business days for these cases, so I should hear back from them by Monday. If the package does arrive in the meantime, just let me know. If I do hear back that it is being returned or even if it has not been delivered by then, as I mentioned before, I will resend the polishes with your custom one. Again, I am very sorry for the shipping trouble! Hopefully we will be able to locate it and it makes it's way to you soon!
Thanks'
That was the last I ever heard from her. I messaged her on the 25th of Feb, the 28th of Feb, March 3rd, and March 17th. Still no reply. I even opened a new conversation thread with her a week ago hoping this would get through. Still no response. At this point I can safely say I am being ignored, and I now know why. I checked up on the Etsy claims policy and I can no longer file a claim. I could file a claim up to 45 days from the date of shipping and as of the beginning of March my 45 days were up. Obviously I didn't know this, and I'm pretty upset that there is nothing I can do about it. I love her polishes and was so excited about receiving them. I can only assume that they got destroyed due to the new harsher laws on shipping polish. So I am sharing this in the hopes that you guys don't get duped like I did. As for my custom polish, god knows what happened to that. I will continue to try and message the seller to see if there is anything she is willing to do about the situation, but I doubt very highly that I will get anything. So that's $20 down the drain, and I will certainly be thinking twice before ordering an Indie Polish ever again.
Please make sure you don't get caught out like I did!